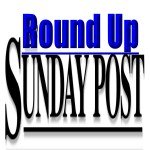 This is it Sunday Post is around with five great articles for your Sunday pleasure the ramblings still goes on about thesis 2.0 as many still don't believe that it is a great framework. On another note Halloween is around the corner are you gearing up for this to go trick or treating with the kids back to Round up thanks for all you who support this blog  and help to make Round Up what it is today. I must stress that this is a post that is design to give back to the community with some free back linking  that will help to spread the word and highlight some great article from around the world wide web. Here are the five brilliant post for this week.
(1) Google's Stance on Guest Posting – Google has always been purposely vague about which backlinks are good and which are bad. Sure, we have "quality guidelines," Penguin information, and Google's Webmaster Central Blog, but there's nothing definitive out there from G that gives guest posting a true green light.
The search giant has been clear about rewarding sites in the SERPs that sport backlink profiles full of high-quality websites; this much we know. The definition of "high quality," however, is constantly shifting. It's a moving target, and keeping up with the changes can make or break your website in the search results.
(2)How to Earn Links by Building Brand Mind Share – Mind share is an element that denotes how powerful a brand is to its market. It is commonly a result of highly effective promotions, which makes the brand really popular, making its target consumers very aware of the product/service/solution that the brand offers.As an objective for marketing campaigns, having a strong mind share is definitely vital these days as it can stretch a brand's reach in several ways, such as: Becoming an industry leader, and often becomes a brand that's on top of people's minds when asked or when they think about a certain product type or category (which can result to virality and/or word of mouth). Becoming a brand name that can as well serve as a generic industry term, due to its uniqueness or popularity (ex: bandaid, Xerox, Coke, etc…).
(3) Watch iPad Mini Event Live Online (Links) – Apple is going to launch iPad Mini on 23rd October by holding a Media event at the California Theatre in San Jose and not at their usual place, Yerba Buena Center for the Arts in San Francisco. There were speculations that iBooks which was announced last year will be of significant focus. French blog iGen.fr has found a listing on iTunes Store which mentions "iBooks 3.0". However, the listing is not alive now. See the image below.
(4) Three Best Websites to Start a Free Blog – There are various names in blogging space but three of them undoubtedly stand out from the crowd – WordPress, Blogger and Tumblr. Having been around for a while now, these blogging platforms have gained immense popularity over the years. They have a large user base and offer all kinds of unique features to make your blogging experience beautiful and fulfilling. Take a look at the chief features offered by each of them and decide for yourself which one you'd rather choose.
(5)20 Ways of Promoting your WordPress Blog – Now that you have created and started on your WordPress blog, it's time to also get started on its promotion! Promotion!!! Why? This is the question that first comes up in the minds of bloggers or companies (yes even businesses have their own blogs), when somebody asks them to promote their blog. Their usual refrain is to say that they back themselves and their content to reach the desired target audience, and they don't really think promotion is necessary. But, IT IS NECESSARY. Yes, in an online world where a surfer's attention span is bare minimum at best, you will be hard-pressed to capture the attention of your target audience. You would do well to remember that your target audience is fickle and what's more, has lots of options to choose from as far as the blog of a particular niche is concerned.