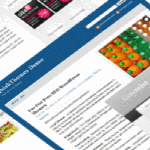 How many websites that you visit daily are just slithering with rows of boring alphabets, the only excitement created, being the colorfulness and the cheerfulness of the fonts used and the small clip arts and images stuck at the corners of the pages? I don't know how many of the visitors get interested in such web pages, but I am seriously not the one to be really hollowed inside out by the frequency and intensity of words pitched onto web pages! Average companies neglect the fact that their visitors need not be flushed in with the entire company information at one go! And in fact, more than often, visitors find it more interactive and exciting to dig out the required information from the official websites and blogs, rather than being served readily on platters.
What is generally done?
It has almost become a convention, a sheer expectation that visitors have – type the URL in the address box, click on the search button and the home page would open up, bearing information about what the organisation is all about. Next, comes the one displaying About Us, where the entire organisation history is mentioned. Most visitors, unless they are specifically interested in knowing what your company does, would conveniently flip those two pages and look for the services you offer. This keeps their journey through your website short and crisp, and probably, boring too! Well, just to remind you, your website needs to be such that your visitors stay there as long as you want them to stay, not as long as they need to! Cluttering your web pages with a lot of content creates a sense of boredom and confusion in the minds of their visitors. It does not encourage them to come back until and unless they are in utter need. And remember, there may be several more companies providing what you are providing. So the point of persuasion, here, is not how great your service is! It is about how greatly it has been displayed on your website.
What needs to be done?
Web designers, please pay attention. Clients are nagging, we all know that. They are demanding and sometimes, challenging. Who does not want to showcase his strengths right there, on the front page? But it is solely upon you to decide how you can fulfill that demand, yet give an awesome appearance to his website. It is advisable to keep it simple, subtle, yet expressive, right there on the front sheet. A logo, some graphic, some mobility or just some shades of suitable colors can do the magic. A picture speaks thousand words. So in place of cluttering your space with lots of literature, use it in a better way with a few pictures that do the speaking rather than to expect the visitor to do the reading. Google has done it in a fantastic manner. With a plain, easy and quick loading page, Google yet reserves a lot of audience attention with its interactive, meaningful and situation Google-doodle. The interactivity however, does not distract the user much, or more appropriately put, the distraction does not seem much of a distraction. I won't say every web developer has to have that kind of caliber, but a humble and conscious effort is not really that difficult!
What need not be done?
Interactivity and colorfulness always does not mean visitors have to go through an ordeal of moving images and grabbing puzzles! Some people might just find it a sheer wastage of time! You know, right and left brains always differ in opinions! The interactive thing should be kept minimum and it should not be allowed to divert your audience from their actual task. Too much of everything is really bad and rather than clearing up the clutter, it might create a headache. Moreover, a fine balance between words and pictures is a dire necessity to make that perfect website for a perfect business!
Author Bio:
Barton Griffiths is a leading expert in web design & web development field. He has impressive and in-depth knowledge about the latest trends existing in web development & web design services. Here, he suggested clean and tidy web design information from their experience that surely make space for impact.