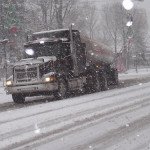 The best advice that professional truckers give new truckers about driving when the weather is bad is simple – don't. Under federal law, trucks are required to pull to the side of the road when conditions are too dangerous, and failure to do so can result in an accident or a lawsuit. Moreover, if you work for a trucking company, your employer is not allowed to discipline or fire you for refusing to drive in bad weather. But what constitutes bad weather? How do you prepare for unpredictable conditions, and when should you avoid getting behind the wheel? The Department of Transportation estimates that 20 percent of annual truck accidents are in some way influenced by bad weather, and the size of that number is often attributed to a lack of training. There may be things you need to know.
1. When Should You Stay Home?
Your right to refuse to drive for an employer is protected under the Surface Transportation Assistance Act, but you have to have reasonable cause. If news and radio reports indicate dangerous driving conditions, such as sleet mixed with rain, heavy snow, ice, or thunderstorms, the weather can be considered hazardous. If you've spoken to the Department of Transportation or other truckers to determine how bad it really is on the roads, you have sufficient evidence to delay a trip. However, you can't speculate on how the weather will change in the next few hours, which is what leads many drivers to end up on the road when bad conditions strike suddenly.
2. Preparing for Bad Weather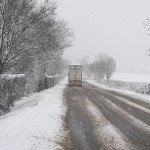 Because the possibility is always there that you can get caught in a storm, truckers need to take precautions. Making sure your tires are properly inflated and your brake system is working properly, including checking slack adjusters and air pressure. But carrying proper safety gear, gloves, a windshield scraper, jumper cables, and food and water is also important. Even if you simply have to pull to the side of the road, you never know how long you might be stranded until conditions improve. Carrying sandbags in case you find yourself stuck in the snow is another plan, but if you find yourself needing to call for help, supplies to keep you warm and hydrated until emergency services can reach you is the most vital thing to remember.
3. Risks for Accidents
Certain types of accidents are more common or riskier when roads are slippery and visibility is low. Jack knifing can occur commonly on interstate highways when a truck skids and the trailer swings out at a 90 degree angle. Heavy rain or wind also puts you at risk of losing your load, when something on the trailer is not secured properly and flies off in the middle of the highway. Side collisions, tire blowouts, and under-ride accidents are also common and can result in serious injury and death for people riding in smaller vehicles who happen to be in the truck's path. Because of these risks, you should always remain as alert as possible when you're behind the wheel. Fatigued drivers are a safety hazard even in optimum condition, but in bad weather they can spell disaster.
Regardless of what your dispatcher tells you, it's okay to not go out on the road if you feel like your safety is being compromised. With as much driving as you do behind the wheel of a large truck, you're bound to hit rough weather sometimes. And in a huge machine, you can never be too careful.
Writer Dan Nielson blogs full time for auto and trucking sites. Dan writes about ways to improve truck driving such as investing in automatic slack adjusters