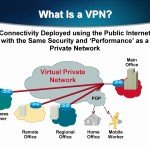 What is a VPN? A VPN is a type of private network that gives you security and immunity from a large range of viruses and hackers that might otherwise infiltrate your Mac through public networks. The term VPN is actually short for Virtual Private Network, and it makes use of an encryption module to encrypt the data that is being shared through the network, having a VPN means that your Mac can decrypt this data before displaying it to you, thus it protects the files being shared from getting corrupt, and wades off any hackers as well. VPNs can also be used to hide your identity when using public networks or even to access websites that have been restricted in certain areas; this is done through logging in with a proxy server. VPNs are very similar to Wide Area Networks and can enable employees of certain companies or students to access their university's intranet from a remote location, or while on the move.
Why use VPN on Mac?
VPNs are incredibly useful because they provide a safe and secure mode of internet from your home. Imagine you are forced to work from home someday due to bad weather conditions or some other unforeseen circumstances, and you need to access files that are securely locked up somewhere in your office's internal networks; a VPN can be used to securely gain access there too. Apart from this, there are many viruses and bugs over a public network that can damage your Mac's system files or your own sensitive data like credit card numbers and confidential documents. Having a VPN connection effectively prevents you from putting yourself at risk.
Tips for using VPN on Mac:
There are a large number of VPN apps available for download and can be installed on your Mac, some of them include Hidemyass!, private internet access, pure-vpn, ib-vpn, and Strong VPN, among others. These VPN apps can be downloaded from Apple's App Store as well as third party websites like Cnet, etc. These VPNs usually have two versions; the paid and the free versions. Paid versions are premium editions while the free editions are slightly toned down on features; but to all intents and purposes they are more than adequate for most home uses. For setting up your VPN, simply download and install it on your Mac, be careful to note down the server's IP address and the domain name as this will have to be entered before setting up the VPN for the first time. After the connection has been set up, all that remains is to enter the username and password, and the connection type (whether it is PPTP or L2TP). Once the VPN has been properly configured, you can surf the internet much the same way you would normally do. But VPNs reduce the connection's bandwidth slightly, so it is prudent to install a VPN that offers decent bandwidth at all hours of the day. By using proxy servers with your VPN you can also view webpages that have been banned in your area.
image credit   http://www.netalliance.net/prodsvcs/virtp.html
Maria leem belongs to VNP industry. She is a 20 year old part time blogger. She is extremely passionate about HMA VPN Review and loves to write Reviews on everything that interests her.