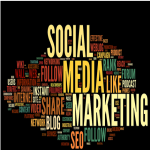 Whether you have decided to launch a blog for your personal portfolio or are thinking of running an online store or corporate site, there are a few tips you can implement to help ensure you successfully promote your blog or website, regardless of your experience online. Promoting your site effectively can ultimately mean the difference between pulling in hundreds of new viewers or losing visitors because they weren't immediately drawn to your content. The more actively involved you are with the promotion of your blog, the easier it is to build a positive reputation and increase the overall popularity of your site.
1. Create an Effective Logo
Creating a relevant and effective logo that conveys your brand and what it represents is the first step to launching a new blog or online presence. You want to create a logo that is modern and unique. Using the same logo throughout your entire blog helps create a brand and makes your website URL more memorable to visitors.
2. Choose a Color Scheme
Consistency is key, and you want to choose a color scheme that you can use both on your site and your logo. Blending a color scheme with the logo on your site adds to the site's professionalism and is ultimately more appealing to your visitors. You can find inspiration for color schemes and themes in magazines and online galleries or design communities.
3. Register on Various Social Media Platforms
One of the most important factors in determining the amount of success you experience online with a blog is the number of social media platforms you are involved in. Registering with various social media communities will give you access to a much wider audience than you would be able to reach otherwise. Register with communities such as Facebook, Twitter, Instagram and Pinterest to give your blog the most exposure possible and to reach different audiences and demographics.
4. Offer a Newsletter
Providing a newsletter for your visitors is a way to gain subscribers and connect on a more personal level. Sending out newsletters keeps your readers informed of your latest content, as well as any products or services you have to offer. Creating a newsletter can be done with the help of professionals or with the use of online tools and services.
Sending newsletters can also give your followers access to special offers, discounts and even contests you may be hosting. Maintaining customer and visitor loyalty is one of the best ways to build a brand out of your blog. Sending a newsletter should be done at least once every two weeks and no more than once a week to maintain growth in the number of followers you have.
5. Implement Search Engine Optimization
Implementing search engine optimization is extremely important when you are building a blog that you want to promote on your own. Search engine optimization, also known as "SEO", is a method of building your website URL's links within search engines such as Google, Yahoo! and Bing. Search engine optimization can be implemented by focusing on specific keywords that are relevant to the content you are creating. Choosing the right keywords and inserting them within post titles, links and your site's meta tags can help boost your website's overall ranking within search engines.
The more optimized your website is, the easier it is for your website's URL to rank on the first pages of search results for the keywords you are targeting.
6. Submit Your Blog's Link to Various Directories Online
Youcan submit your blog's link to various directories online, both locally and internationally. Whether you submit your blog link to relevant communities or generic search engines, the more your URL appears online, the easier it is to improve your website's page ranking and overall popularity. Submitting your blog's link to directories can be done for both personal and corporate websites.
Knowing various ways you can promote your blog can help give you an advantage over other potential competitors. Being consistent when you are promoting your blog and effectively building a positive relationship between you and your visitors will give you the ability to have a much more successful online presence.
Ken Myers is a father, husband, and entrepreneur. He has combined his passion for helping families find in-home care with his experience to build a business. Learn more about him by visiting @KenneyMyers on Twitter.