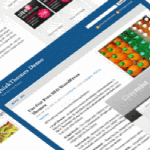 Why Responsive Maps? Indeed, re-positioning has proved to be quite beneficial. However, the user may get stuck if the rooted map fills the entire view-port at a single point. If the user is not able to see a portion of the actual map page on the mobile website, then he does not have anything to swipe or touch from. This can be tested small-sized touch screen. If you do not implement all your swiping abilities, you will not be able to scroll effective to the bottom end of the page. This is commonly seen in single column mobile device views. In such views, the container ends up occupying almost 100 percent of the entire width of the view-port.
For avoiding this, the container can be set at 90 percent. This creates room for rails on the left and right sides. With this, the user always has some part left on the page for touching or swiping.  Responsive apps designers also make sure that the height of the map is kept short.
The present age can be rightly termed as mobile age, or rather, Smartphone age. Seeing someone without a tablet or a Smartphone comes as a rude shock.  Today, people don't just use their phones for texting and calling. Shopping on the mobile web, watching movies, chatting and sharing memories- these are some of the common uses of the Smartphone today.
What is Responsive Web Design?
To put it in simple words, responsive web design is a newly developed approach for designing websites. With such an approach, the look of the website is delivered based on the device's screen resolution where the user will view the website. With responsive web design, users can view tablet/smartphone/ mobile compatible websites.
Why Responsive Web Design?
There are several good reasons why responsive web design has become more a necessity than a matter of choice. The very first reason is that websites featuring a non-responsive design look awkward on a tablet or a Smartphone. If a user opens a website which does not feature responsive design on a smart phone or a tablet, then the website will not be optimized based on the screen size of the device and will look weird as compared to viewing it on a desktop or on a laptop.
Needless to say, a website that does not feature responsive design can cause a dent in the online reputation of the business. Additionally, such an obsolete website will also be preventing prospective buyers from opening the website since they will be highly dissatisfied and disappointed with the format, design and the look of the business website. Most prospective buyers are not tech savvy and remain clueless as to why the website appears weird when they view it on their Smartphone or tablet. They will form an opinion that the business is not too serious about mobile commerce and thus, will not visit the site again.
Author Bio:
Barton Griffiths is a leading expert in a Web design & Web development and Mobile development field. He has always believed that, Mobile Website Development should provide complete mobile solutions to globe clients. He has impressive and in-depth knowledge about the latest technologies in web development & mobile commerce industry. The read is well-read about various advances in different departments like mobile responsive design, responsive maps and so on.