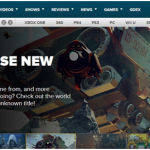 Old websites were created without paying too much attention to the device used by the visitor to gain online access. Most avid gamers today are not surfing the web from a desktop computer anymore, since the best games are meant either for Android or iOS. Downloading a game to a tablet or smartphone calls for a responsive design as far as the websites are concerned. Accessing a static web page from a portable device is extremely boring, so companies were compelled to adapt in order to live up to the demand and give visitors the exact same website quality they had on a desktop computer.
Today's gaming websites are extremely flexible. They have the ability to adapt their resolution and layout to the screen used to access their pages. We're talking here about laptops, tablets, iPad, iPhones, and more. In the following lines we'll have a closer look at some pretty fabulous gaming sites with responsive designs. Let's check them out.
GameTrailers.com
Game Trailers looks just as good on a tablet as it looks on PC. The website features a top menu and sub-menu from where it's quite easy to access latest videos, games, reviews, news, and more. The moving slide positioned in the center of the website emphasizes on the newest gaming trailers, while if you scroll down a bit you'll come across Gdex, which is a platform that tracks down social comments regarding the most recent games on the market. Overall, in terms of responsiveness, Game Trailers is certainly a beautiful site to check out.
GamesRadar.com
Games Radar has a pretty structural responsive design. The multi-format video gaming site features daily news, reviews, guides, and previews of the most recent games on the market. Operated and owned simultaneously in the US and UK, Games Radar offers a flawless navigating experience on portable devices such as tablets and Smartphones. Famous for its mix of professional yet comedic loom to video game journalism, (through the numerous published videos and articles) Games Radar has certainly managed to set itself apart from the competition.
IGN.com
IGN is one of the most famous gaming websites out there. It focuses on video games, music, and films, and it features an extremely appealing website design. The main site comprises all other corresponding sites or channels, each having their own sub-domain. From a tablet, the experience is even more entertaining. Flexible, versatile, and easy to access, ING's responsive design is worth having a closer look at.
Blizzard Entertainment
Founded in 1991, Blizzard Entertainment is a veteran in the gaming niche. The company's official website has gone through some extensive modifications over the years, and it's now more flexible than ever. On the main page gamers can sneak a peek into the company's newest releases, as well as check out reviews of their other games. Unlike some other gaming sites, Blizzard doesn't support a multi-layer, so it's rather simple at a first glimpse and extremely easy to browse through from any smart device.
GameSpot.com
Gamespot's responsive design is extremely easy to understand and operate by avid gamers. The top menu includes various sections such as reviews, downloads, news, and previews, as well additional information on various video games. Launched in 1996, the site went through numerous changes over the years, and it works perfectly on smart devices. Recently updated, the website allows users to engage in a more adaptable experience.
Responsive designs are a must for most websites out there, not just for gaming sites. It's extremely important for an official page to adapt and be just as flexible on a smart device as it is on a laptop or PC. In order to ensure the ultimate experience for users and visitors, gaming websites must be easy to understand and browse through, as well as versatile, appealing to the eye, and constantly upgraded with the latest features in terms of web design.
Author Bio: Jason Phillips is the writer of this article. He enjoys writing about latest games and technological advancements which are going in the market. He also joined an online gaming site Army Games 365 as a content writer.