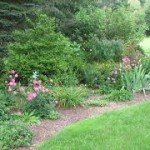 Do you want to landscape your yard? Do it more professionally by using landscape design software free applications for Mac. We have listed here our top ten recommendations: 10. Pro Landscape Pro Landscape is one of the landscape design free software applications with a broad range of features for residential and commercial designs. Aside from designing with plants, one of its interesting features is that you can use it to decorate night lighting and holiday lightings. Additionally, you can also make a landscape design without downloading this application with the use of their on-site designer. You could try it for free.
9. Landscape Design
The Landscape Design is one of Punch's landscape design software applications with a free trial version. This application allows you to create customized designs for landscape and other outdoor spaces. It has a library of more than 4,000 plants that you could easily drag and drop to your landscape. It also has an important feature called plant finder which allows you to select plants that can grow in your region.
Moreover, you can create a landscape complete with plants, flower beds, walkways, driveways, avers and other objects that you could use to decorate your yard. It also has a library with thousands of outdoor accessories and furniture pieces that you could use for designing outdoor living spaces.
8. Imagine Pro Landscaping & Outdoor Living
The free trial version of Image Pro Landscaping & Outdoor Living is also a great tool for landscaping. You can make any landscape design over a photograph using this application. It has a built-in library of plants and objects such as fences and gazebos for your use. One of its best features is its Integrated Picture Editor which lets you paint, spray and modify any pattern. Additionally, it has functionality for cost estimation with hidden location to input costs.
7. 3D Home Architect Home & Landscape Deluxe Suite
If you are still a beginner in landscaping, you can create good designs with the help of 3D Home Architect & Landscape Design Deluxe Suite. This program is easy to use with its user-friendly interface. It can let you create a detailed landscape design, complete with plants and objects that look very realistic. You could then view your final design in 3D.
6. Bryce 7
Bryce 7 is another comprehensive landscaping application with a free trial version. It specializes in creating 3D realistic images of landscapes and other outdoor environments. With this application, you can add people, wildlife, plants and objects to make your design more realistic. You can even add different types of terrains, water and rocks. Bryce 7 is more applicable for large-area landscaping.
5. Garden Planner
Garden Planner is a landscaping software application with an easy interface and a large number of plants to choose from for your garden design. It also has tools for creating pavements, paths and fences. And it can give you a detailed report of all the objects and plants you incorporated in your design for easy purchasing.
4. GardenSketch
Use GardenSketch to layout, design your garden, and visualize it before actually purchasing actual materials. It has specialized tools such as its huge collection of plants that make landscaping easier It even helps you compute the number of plants and amount of mulching needed.
3. ConceptDraw PRO
Another landscaping software product with a free trial version is the ConceptDraw Pro. It has a library with a broad range of landscaping materials and fixtures such as flowers, bushes, trees, fountains, ponds, fences, grass, patios, roads and many others. One of its important features is its multi-layered pages which allow several people to work on different areas on a single project and then show its dynamic and integrated result later on. This application also enables you to create new objects to be added to your library.
2. SketchUp Pro 7
SketchUp 2014 is one of the more advanced landscape design software free application for Mac. It is highly customizable and boasts of its five templates which can help you create 3D models of different engineering and architectural works including landscape designs. It allows you to import files from Adobe Photoshop or import 2D pictures of your yard for easy duplication so you can easily get started. Although a premium application, it has a free trial version that you could use.
1. Home & Landscape Design Studio  
Offering a free 15-day trial period, Home & Landscape Design Studio can be used to create an intricate landscaping design for your yard. It has complete tools for planning, designing and visualizing your outdoor spaces including landscapes. It has a drag and drop interface so you could easily apply plants, bricks, paintings, furniture and other outdoor decors from its extensive library.
Once done designing, you can check your work using its multiple view options including 2D, 3D and bird's eye views.
If you are using a Mac and are looking for free landscaping software, you may find it hard to look for one. All the applications listed here are premium software with a limited free trial version. If you know of other landscape design software free application for Mac, please let us know.