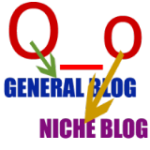 For any blogger who wishes to make money online the best thing he or she could do is to blog on a niche. That's a known fact. But still there are people around who have been plagued with a fact that makes them believe that simply blogging on anything and everything would make their money making dream come true. Even I had the same approach when I started my blogging. I could see people telling me that I should have a blog if I had a desire to make money online. I should have ads all over and then I could make huge money overnight! Honestly, if it would have been so easier to make money online then I would have called myself the next John Chow 😉
Well, jokes apart. The truth is – You can make money from your blog but you really have to work for it. And if you are asking me, nothing looks better than being a niche blogger. Niche blogs have become very significant in recent times. One of the major reasons for the same is that you are able to target a particular subject which people usually search on the net. This in turn helps you in attracting the right audiences which then can be finally helpful in making your online money making dream come true!
To let you know more on the importance of niche blogs, below you can find a list of points that would give you a strong reason to choose niche blogging over any other forms of blogging. These findings have been carefully researched and it should be known to anyone who wishes to start a blog or who has been blogging from long. Let us see them one by one –
The Love Affair
Yes, readers love niche blogs as most of the times they get what they have been looking for on the net. Niche blogs make your readers feel comfortable and leaves them with a temptation to visit often and again. As opposite to the same, if you use random subjects on your blog, you are most likely to lose your readers and thus diminish your chances of making money online from your potential customers. If at anytime you feel like blogging on broad subjects, try creating separate blogs for the same to let your readers read what they want to and thus you are more likely to get positive results..
Easy Adaptability
As compared to other forms of blogging, niche blogging is easily adaptable and improvable as it is targeted towards a specific topic and the right audience. It is generally less difficult to come up with ideas if you intend to write upon a precise niche.
Entices Advertisers
As long as you keep writing on a specific niche, you have a very high rate of being contacted by the potential advertisers who look for related content to set their ads to market their goods or services. You then do have a fair chance of making good amount of money by selling ads on your blogs.
Better Monetization

As said earlier, niche blogs entice advertisers and therefore you have a high chance of making money online by selling ads which can be both text links or banner ads. As long as you have a specific content material and well-targeted viewers, you are in the eyes of your advertisers and if you happen to go over a wide range of subjects then you are making yourself go unnoticed in the advertising market.
Search Engines Favourites

Search engines prefer to provide useful and appropriate content to their visitors. Mostly it is all about serving best available end result in the shortest range of time. And this is where niche blogs excel from the rest. A well defined niche blog targeting keywords is more likely to showup in the SERPS as compared to other sites with uncertain topic for their search engine results. Very basic thing – Search Engine love Blogs and WordPress Blogs are the best as they rank much higher in search engines when compared with traditional sites. In a recently conducted research, SEO experts have found niche blogs to be one of the best methods of site advertisement. If niche sites are utilized together with a really intense article marketing campaign then there is a high possibility of site having much better traffic rate and search ranking.
Well for the very same reasons mentioned above, I had finally decided to move into niche blogging. And I am seeing it all positive. No doubt, niche blogging is a perfect way to start your blogging. Nothing fascinates your readers much. And to add to it, you get it all from the search engines so traffic and finally online money making dreams are highly realistic. This is all based on my personal observation…would love to know your thoughts too!