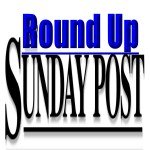 Round Up Round Up yep it is that time again when Round Up hits the street. first i must say thanks to Jason from Seo Strategies for the recommendation about some wonderful post that can fit into Round Up  but not only that, this is the response this feature needs to push forward you can see that article at number two. How to get featured here? simple just keep writing those great post and when i visit your blog then they will get featured here if they don't no need to worry one will. Without further ramblings here is this weeks list.
(1) How It Took Me 4 Days and 1 Back link To Rank #2 of Google SERP For a High Competition Keyword – I've been experimenting and playing around with my blog's homepage recently (a lot!), from the time when I restored it after crashing my blog's database a month ago. As of today (March 27, 2011 – Updated), my blog's homepage is currently ranking on position #2 for the keyword "online business SEO", and it only took me 4 days and 2 tweaks to reach that rank – homepage's title and 1 keyword rich inbound link directing to it. As you can see, my homepage is not that quite relevant for the keywords, right? But why and how the hell did I rank for that keyword with just one simple adjustment – and I haven't even modified other on-page elements yet.
(2) Perfect Link Profile – Link Building Your Website to Perfection – In theory we all know what we are doing and we all know how to build links and where to look for the quality stuff, but in practice 99% of web owners build links blindly, without a link building plan, without any regard for their link profile, all for the sake of gaining more links. In the process they sacrifice their link profile and quality of the links; the more the better doesn't really apply to SEO and link building as it did a few years back. Every SEO knows that a few strategically placed quality links can easily replace hundreds and thousands of low level links. Now the issue here is not how to get a link, we covered that and we will cover it some more in the future, we will now concentrate on what a "perfect" link profile needs to have.
(3) Social Bookmarking to Increase Traffic to your Website – Social bookmarking is a great way to generate traffic to your website or blog. Social bookmarking is the process of saving your favourite WebPages online and sharing them with other people from any computer. Come learn how you can increase traffic to your website starting today!
(4) 5 Reasons Why Bing Is a Better Option than Google– Is Bing now better than Google? Well, that is what we are here to help you figure out. Bing is not exactly new to the scene and has been around for quite some time now. It has established itself as a major player, and it is already the preferred source for millions of web surfers.Even Google has accused Bing for cheating its search results . Let's take a look at a few of the many reasons why.
Thanks for your visit it was a pleasure having you here. Please share this post on your favourite social networking site. hay your say and visit these sites to read the full article.