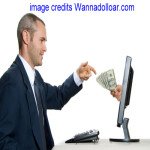 Mostly when someone is looking to launch a blog, they will go out in search of a web host, and the only thing they will look at is the price, space, and bandwidth. Now, these are probably the three most important factors, but these are not the only factors that will matter. There are many points that you need to remember when choosing a host for your blog, and the location of your web hosting company or server is one of those (even though it is neglected by a most new  bloggers). A big majority of hosting companies have got their servers based in US, UK, or Canada, but there are many operating from other parts of  the world, and while we cannot categorically declare an entire region as a good or bad option for getting your blog hosted, but the location will certainly make a difference, let's see how.
Reliability:
When you are launching a blog, you want it to be on a reliable host. Doesn't matter what's the nature of your blog, you wouldn't really want downtimes or your blog loading with a devastatingly slow speed, not to forget that these factors can actually cast a negative impact on your SE rankings. Similarly, you don't want your server to crash every time your blog starts getting huge number of visitors. So, to be on a safe side you have got to go for a reliable host based in regions like USA or UK.
Technical support:
Not to take anything away from web hosting companies based in other countries, but in my personal experience, the level of technical support that you will get from a host based in UK, USA, Canada, and the likes will be better than a host based in some low cost region. Mainly because some of these hosts hire entry level staff to cut costs, resulting in less than satisfactory customer support.
Cost:
If you are looking for some really cheap and low cost hosting packages, you might not get them from UK or US based hosting companies. Web hosts in low cost regions can offer some amazingly low rates, mainly because the difference in currency exchanges.
Hardware:
Web hosts based in regions like US, UK, Australia, or Canada have got the best technologies and hardware at their disposal. You might not get such state of the art hardware and equipment when hosting your blog with other hosting companies. Being a simple blogger or internet surfer, you wouldn't see a difference in the performance, but it can make a difference especially when your blog start to get large number of visitors.
Communication:
You might have to communicate with your web host on regular basis, for example when your site is down, or even worse hacked, or you are looking for an upgrade,  or simply looking to find a solution to some technical problem, having  your web hosting company based in these regions means that you are more likely to get more professional response.
While the article might sound that I am advising bloggers to shun a web hosting company just because it is not based or located in countries like UK, US, or Canada, the article is just meant for cautionary purposes. I have had good experience with a couple of  hosting companies based in India or Thailand, and they tend to be quite inexpensive too. But the long winded point of this post was that you should be extra vigilant when choosing your host and that you must take their location in consideration.
Farah Bashir is a blogger and writes on topics related to technology. At her website, you'll find midphase webhosting coupons and anhosting webhost coupon. Midphase and An Hosting are two reliable hosting companies and these coupon codes will result in great discounts.