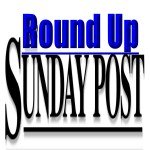 Running behind with the series as i promise to continue this many of you may have notice that i have not been very active recently i have been very busy with other things and for those who do not know i am a trade union Representative so i was away for about a week at conference and then the company i was working with was moving store. enough of me lets get back to blogging and the reason why we are here. Starting off the June round up i must mention itrackthatsite.com the new and upcoming social networking site your source for news and social networking doing fine at the moment and just remember to keep submitting your articles.
During my web journey i came across a few interesting article that grab my attention and i think is worth while sharing with you one such article that really grab my attention is What make some people So Successful this is a three part series written by a very experience and successful affiliate marketer Robert Barry. This thre part series titled Finding Money Making Products On ClickBank – Part 1 ,part and part three can be found here this is a very interesting post for those wanting to make money online and needs a little guidance.
This is another article i found very interesting this post is SEO related and a very useful her is and excerpt from the post
I think its fair to say the most commonly used SEO plugin for wordpress is the All in One SEO Pack written by "HallsOfMontezuma" – it been downloaded over 5,000,000 times from wordpress.org, and no doubt its also been used countless times by wordpress installers. I've probably used it a few thousand times, having only downloaded it four or five times.

So its fair to say the All in One SEO Pack plugin is a bit of an industry standard.

But what if I said using the All in One SEO Pack with default settings was actually SEO suicide? "Hello, what? How dare he!"

SEO Guru's swear by it, SEO Companies swear by it. Which makes them all idiots!
The web is full of lots of information so if we take the time to search we can find just about anything we need from online business to even playing football. before closing this post i would like to say thank you all for your support to this blog all of you who have got mentioned at some point in my monthly round ups. This post only feature two post this time around however for the next series i am looking forward to expand on this. now it is your turn to have your say and as always if there is any thing you would like to add to this feature please feel free to make your suggestion.