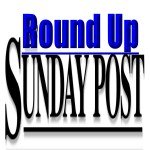 This is Sunday post round up the feature where I showcase some great post and at the same time giving some link love to the featured blogs. First of all i must say a big thank you to Jason from  Seo Strategies for motioning Sunday Post Round Up in is article which is also listed here, it is the first of the four featured links a post which i highly recommend that you read the entire post there are a lot you can learn from this post. Now it is time for this week Round Up sit back read on and leave your comment and feel free to check out the full post.
(1) How to Get Natural In-Content and Editorial Links – An editorial link is a one-way link placed within the body of a content that is given naturally by other websites to specify a resource. Basically, it's a form of citation on the web, which generally indicates that the destination of the link is the original source of the procured data, idea, concept or statement.getting editorial links In link building, I personally believe that these types of links – editorial or one-way in-content links – are the most powerful and the ones that really carry weight in signalling search engines that a certain content is offering so much value and they should return this piece on their results for people to see.
(2) Deep Link And SEO Search Engines- After Google changed the algorithm last month, I started paying more attention to Search engine optimization. I have been studying it almost everyday, as I want to be ahead of the game. I have changed my professional SEO strategies, simply because I want to depend on myself for my search engine optimization. I realize social influence and bigotry is always chasing human spirit and self sufficiency is the most important key of doing things that earns self respect in my own eyes.
(3) Customize WordPress Admin Panel Using 5 Simple Techniques – There is absolutely no doubt with the fact that WordPress is truly one of the best blogging platforms till date. I think it was a big miss from my part to not to choose WordPress as my preferred blogging platform. Instead, I decided to go for Google Blogger, though not as versatile as WordPress, yet surely one of the most user friendly blogging platforms on the web. Often and again, I have been advised to move to WordPress but don't know why I have never really thought of making any decision over the same.
(4) GLP #3 – How to Optimize to Blog and Convert Search Engine Traffic– A lot is going on with the Go Large Project (GLP). It hasn't made much money. But we've experienced a number of breakthroughs that's pushing this project to the next level. The biggest result comes from what I call a "MWR Blog." This one concept has produced a number of great results. Specifically we're getting over 20 subscribers a day from about 300 unique visitors. In my opinion, that's not a bad starting point.So today I'd like about the MWR Blog. We'll discuss what it is and how it can help your affiliate marketing business.
Thanks for visiting that is it for this week Round and remember if you have made it this week next week could be you. have your say, leave your comment. Sharing is caring.