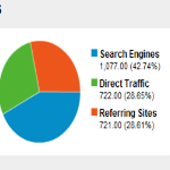 Most of you will remember the bloggers cry for help well as I mentioned in that post that I will give a feed back on the result. Well there are a few things that was not achieved and is the aim of getting on the front page of digg and for those who missed that post here is the post Bloggers Help Me By Digging This Post as you may know this was a great task and the best part is that I did get lots of new visitors to my blog and some become repeated visitors and a total of 41 digg's.
For any business to succeed and the web in today's competitive marketing place in this blogging environment we need traffic and lots of it traffic is our blogs life blood but we need to ensure that the content or product that we provide is of the best quality to our readers. It does not matter what you blog about may it be business cards or just simple providing information about your face book fan page you need traffic and quality content to keep readers or make the sale to generate the income you so desire. Take a look at the image below.

What went Right?
What went right? There were some positives to take away from this experiment and that is the increase in new visits and my Alexa rank drop from 92,000 plus to just about the 75,000 marks that is a big plus. Traffic has increase and I am quite happy with that. The support from all of you was fabulous I could not have asked for more. From the beginning I know that this was a big ask make no joke about it getting on the front page of digg is not that simple as it seems unless you have a huge and loyal following.
The Draw Backs
Getting anything done online needs hard word and that is where the experiment did not go so well honestly, I had not promoted the post much, this was something done intentionally just to see if it would go viral. That is mistakes learnt never leave things up to chance we need to get behind it and push it along. Overall the experiment is a success and I believe that in the near future I would do it again. Thanks for all your support with this experiment.
Leave your comment Do you think the results of this experiment went good?  Please share and let your voice be heard.