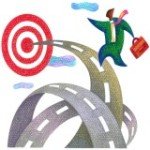 I take great pleasure in presenting to you Aswani this is the first of many Guest post here At www.lawmacs.com Aswani is a great ,professional blogger and a very good friend of mine  What is the most important concern for any blogger? Say, you are finished with everything. You have your favourite template ready. You have your widgets ready for your blog. No, what next? Obviously, the most important thing for any blogger is blogging itself. Yes, what should I write ? what should be the content for my blog? How to go ahead with content development for my blog? Well, there can be many more concerns but building right content is obviously the most important concern for any blogger as the whole idea of blogging revolves around this. You may have the best things on your blog but what if not good content. Failure to ignore this thing is likely to cost your blogging like anything.
Anyways, for those of you who find it a bit difficult to go ahead with this content development, below are some 5 useful content development strategies for your blog :
Must be useful – Make sure the content you are planning to develop is useful for your readers. The more useful your content better will be the loyalty of your readers. You should make use of your past experience or research for developing the same. This type of content is considered very educational for every kind of people.
Must be insightful – This again is a very good strategy. The content which you are planning to develop, try to make it thought provoking. This is possible by having a writing style which  involves a mixture of research intermingled with a 'flavour' of current events and your own personal perspective and/or experience.
Must be inflammable – Your content should be thought provoking and how can you make it look same. This can be made possible by writing with a difference. Yes, try focusing on subject matter that is popular with your readers but taking a controversial stance is an excellent way to get readers attention and provoke a reaction. This is a great way to increase the interactivity on your blog.
Humour works – Yes, it does and nothing works better than this. Go for it. Generally current events or commonly observed behaviour or trends is what many build their humour around. Poking fun like this is a great way to have a laugh without offending anyone, if done correctly, and that is why it is regarded as a talent.
Reporting Type – Sharing information from the typical news resources is a good way to put it on your blogs. Content like this is generally updated quite frequently since 'news' occurs all the time. The focus of the subject matter is always directly in line with the theme the blog has established.
So these are some 5 simple but very useful content development strategies for your blog. Content development is an art and it is not easy to master until and unless you have some definite strategies for the same. As a blogger, we may have different styles of writing but we need to have a good content to make it happen. These 5 approaches above reflect some of the most common styles of delivery found on blogs today. Whatever style or uniqueness you tend to display it is important to establish a strategy allowing you to continuously create the quality content you want and need to maintain a successful blog.
Author Bio
Aswani is a an avid blogger from India. He has been blogging since 2007. He writes mostly on the topics which are related to blogging and personality development. Plus being a niche less blogger, he tries to cover anything and everything. To know more about his blogging, please visit his blog at aksindiblog.com