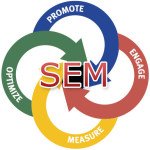 Gone are the days of yellow pages or telephone directory searches when someone was trying to find a local attorney or notary public. These days, people simply "Google" when looking for an attorney and if you haven't got your website up and running, you might be missing out on a large chunk of potential customers. Creating a strong online presence is easy and affordable. All you have to do is know the basics of creating a website, search engine optimization, and some smart use of social media! The level of success will depend on the time and efforts you can put into the process. The more you work on the marketing side of your website, the better your chances of growing and getting some leads from the Internet.
Following are the five internet marketing tips for you to grow your business online.
Get a Website:
There are many platforms that offer you the facility of setting up a website free of cost (mainly used for blogging). However, such websites cannot be customized and cannot be owned. To set up a professional website on your own domain and host, you can use a content management system like WordPress.com, or you can hire a freelance web developer from the portals like odesk.com or elance.com, to get a fully customized website at dirt cheap prices.
Once you've got your own domain and website ready, you will have to search for a hosting service. Most popular ones are Hostgator and GoDaddy. They have got several pricing packages based on monthly or yearly usage. You might need to have some web savvy person to guide you with the initial setup but once the website is up, you don't need to do anything to keep it going.
Basic SE Optimization:
SEO or search engine optimization is the process of getting your website indexed and making it searchable on search engines. A customer will enter a specific search term relative to your business (e.g. divorce attorney in California, real estate attorney in Chicago, find notary public in Virginia, etc). Your website needs to appear on the results when someone searches with one of those keywords. Sounds easy? Not at all … Competition is fierce and on a single keyword, there are millions of results. A fully optimized website aims to trespass these millions of websites to stand on the top 10 results, but because you will be competing for localized searches, that shouldn't be as hard as competing for a generic term.
Your website's main keywords, content strategy, advertisements, traffic, exposure, popularity and many other factors can affect your Google rankings. Without basic SEO done, your website will hardly serve any purpose.
Make the Most of Social Media
SEO is not enough to give your business the exposure it needs, because that is merely for search engines. For real people, real connections and real brand building, you will need to make the most of social media. The more traffic you get from social media sites like Facebook, Twitter, LinkedIn, the better your chances of getting new clients for your practice.
More than 845 billion (and counting) users are on Facebook and this is a huge market that you can target by launching an active Facebook page describing your legal services and forte. Similarly, Twitter and LinkedIn are great platforms for professional networking.
Start a Blog on your Website
A blog is essential when you are looking to create some credibility as a professional. In fact, for millions of businesses, an active blog is what really generates leads and customers. The better you write or topics related to laws and regulations, the more your chances of making it big in the online world. Make sure you focus and write more for general public (i.e. your target audience) instead of delving deeper into legal issues and using jargon that a common reader will find a tad difficult to understand.
Think of the topics or advice that your target users will be looking for, and write on them using your experience and legal knowledge. Share your blog posts onto social bookmarking sites, initiate guest posts at relevant blogs to get more exposure (e.g. family and relationship blogs or real estate blogs if you are a real estate attorney).
Create PPC Campaigns
Pay per click or PPC is an advertising form, which is similar to real time advertising on print media. PPC is all about getting your ads across search engines and paying for every click or visitor to your website. This may appear as a costly option for many, however, PPC campaigns are sometimes ideal for small business owners or professionals who want to get the word out. The campaigns should be well structured according to states or types of cases that you are looking for.
You might need the help of a seasoned expert to generate the right words or ads for better ROI. You can also use Facebook Ads for the same purpose and see which one yields better result for your business.
Creating a strong online presence for lawyers and attorneys will require persistent work and a dedicated schedule. If you don't have the time to for all of these mediums, you should go ahead and hire a professional to do the job, because Internet is something you cannot afford to overlook.
Roberto writes for find notary , a website featuring notary public by states or counties. If you are thinking, exactly where can I find a notary feel free to visit the website and avail the services.