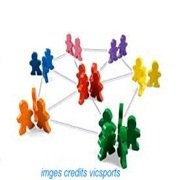 Have you been writing guest post lately ? well if you did that's a good idea , now lets explore the idea of networking against writing guest posts which i believe is better and gives a better result.This is just my honest opinion here i strongly believe Networking with other bloggers is far much better than writing guest posts.I must remind you that this is just my opinion and i am not an expert here. I am just simply a blogger with a big ambition of trying to change the web one blog at a time sounds crazy but is it really possible? well that is a discussion for another forum.
Why i believe that networking with other bloggers is much better than writing guest post is because of my personal experience, i have done both. While networking brings you closer to your fellow bloggers i am of the opinion that this will breed trust quicker. going back to one of my earlier post about Relationship Building which we all agree that is vital well building relationship is a key ingredient in the Networking with other bloggers. the point here is that while writing Guest Post is good and i would always encourages it i still argue the point that the benefit that you received from networking will always out-weight that of guest posting.
Guest Posting is good it can bring you lots of traffic to your blog and builds your authority status as a bloggers especially if you writes for some very popular blogs that has a huge following and a large subscriber base then you will see the benefit. The benefit of guest post as i see it is that other than gaining exposure is that it builds your authority give you some form of bloggers status while for networking it builds trust and foster long term relationship.
In Summary both guest posting and networking has their benefit which one you choose is entirely up to you they are both beneficial to us as bloggers but remember choose the one that suits your needs. I still believe that networking has greater benefits judging from my personal experience. Now do you write guest post or networking or do you do both? Share with me here i want your valuable input which gives you the better results? and remember it is the results that counts. Which one brings you the most traffic? traffic is the life blood of our blog.