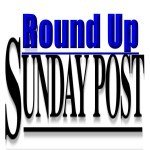 Well guess what? yes it is time for web round again i must firstly and rightly say thanks for all your support throughout the year and looking forward to your continued support in the coming year. i am looking to the new year already how you all are. As i have always do is to showcase some post from around the web which i think is worth sharing so if your post does not make it this week maybe next time keep on posting. Now here five post i would like to share with you the first one is just a reality check sit back read and enjoy.
Why I was Almost Sued by The New York Times – Almost being sued by a major corporation such as the New York Times definitely isn't funny business. In fact, it's extremely frightening and stressful.I found out recently that the New York Times was going to start charging readers in January 2011 for frequent access to their website
Monitor SEO Progress With Free SEO Reports And Tools – Now that you have done a great deal to improve your search engine rankings by implementing the best SEO practices, it is also wise to regularly monitor your progress to see if your SEO campaigns have been paying off. If one of your objectives is to have a successful business in the online market, following your SEO movements should be a part of your regular activity, to ensure that your goals are being achieved.
8 Ways To Do a Strategic Link Search – Link search or finding link opportunities for a site's link building campaign is very vital to all SEO strategies. Basically, it's a phase in which your link building efforts will depend. To build links strategically, it's important that you first know the pages that you'll be trying to get links from; if they'll be useful/good for your site or not, and if it is possible for you to get links from them.
Proven Methods To Boost Your Affiliate Sales – If you are into Affiliate Marketing then this is a must read I'm sure when you first heard of affiliate marketing and read the many success stories on display, you probably thought you have finally found your ticket to wealth. No doubt: affiliate marketing is the easiest industry to enter and it also has the potential to reward you considerably. But the brutal truth is that over 80% of affiliate marketers will never make a single sale.
Here are four of my favorite for this week feel free to leave a comment and share with others and don't forget to check the full post these are just excerpt from the post. There are many other great blog post out there however i just pick a few hey if you are into technology don't forget to visit Techiezlounge for all your updates and highlights in this category and here is a bonus for you this week