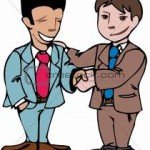 Sharing the love without comment luv strange isn't it? You might be wondering what the hell is he talking about is mad or is he condemning one of my favourite plug-in how can you do this? to answer that question yes you can share the love without comment luv and no i an not condemning your favourite plug in maybe you can say i am just been naughty taught provoking Oh.For sometime now i have been doing a series titled "Round Up" this is actually a post which i used to highlight articles written by other bloggers which i found very interesting and i share them here a bit of love sharing if you might.
Well lets get to the topic of discussion here Andy has invented a great plugin called comment luv and i strongly believe that this is a great tool one which you should have noticed that i used here and will recommend. Sharing the love as bloggers is something we all do and  the best part about comment luv is that after writing your comment on your favourite blog your latest post title is display for other commentators to see call it a free promotion if you wish. how can you share the luv without  comment luv? with Round up is the answer. if you go blog walking like i do although this can distract you from doing other important things you will notice that many other bloggers do this take Sourav  from Tech N Blogging for example he has one which he called TNB Weekend Blog Revisits.
Now lets face it rewarding our readers for their hard work and commitment to our blogs success is something i strongly believe in so highlighting their post is the least we can do, how you do it is totally up to you so tell me do you spread the luv without comment luv ? I would like to think that you all do and certainly for my readers they do in their own way.
Round Up for me is what i used to spread the love without using the comment luv so you see now things can be done in different form and i hope you get the point here its not about the plug-in it is about us as bloggers sort of Building Relationship spreading the love and supporting each other. i am no expert here but Comment luv is a great plug-in which helps foster Relationship building and encourages feedback and conversations. Now i asked you these question, do you believe in sharing the love and how do you do it ? in the mean time spread the love by re-tweeting this post after all caring is sharing.